All genius all idiot – by Svalbard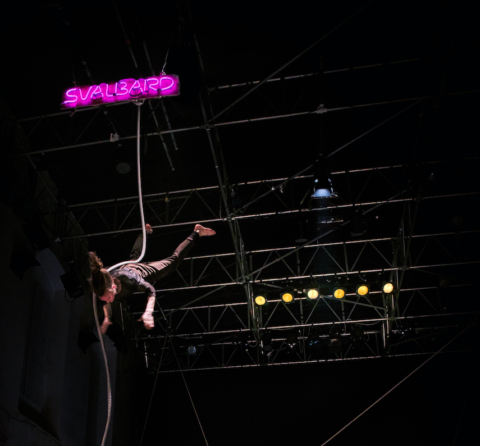 ALL GENIUS ALL IDIOT
Follow the Rabbit var agent och producent för cirkuskompaniet Svalbard under åren 2016 – 2018.
Stockholm based Svalbard Company present their first full length indoor piece under the name All genius all idiot. The performance was awarded Best Circus and Physical Theatre at Adelaide Fringe Weekly Awards 2016. The show is described as a multidisciplinary approach to circus, a strange mis-formed 'Frankenstein' where nonsense can be beautiful, ridiculous and very deep.  All this in a universe where modern technology meets natural elements and the caveman meets the scientist.
Since the premiere in 2016 Svalbard has toured 30 cities in 15 countries with more than 120 performances: Jatka78 , London International Mime Fest , Adelaide Fringe Festival,  Södra Teatern,  Cirko Festival, Culture Center Valve, Arts Printing House,  Berlin Circus Festival,  RE Riga, Tarrega,  The Lowry, Clockenflap, Trafo,  Circos Sao Paulo, Berliner Festspiele Theatretreffen,  Mostra Internacional de Mim, Edinburgh Fringe, At.Tension, Deltebre Dansa, Monthelon Rencontre Festival, National Circus Festival Ireland, Touring Circuit Argentina.
 
"All Genius All Idiot is circus as a liminal act, on the edge between civilisation and the wilds, between circus and music, between animal and human, between the genders, between and the real and otherworldly. It is a hedonistic celebration of the Bacchanalian spirit."  
– Total Theatre